This weeks neighborhood spotlight is about the Puget neighborhood. One of the most populated areas in the city (4th most according to the 2010 census), the Puget neighborhood remains a highly desirable place to live. The neighborhood has plenty of commercial businesses, most notable being Lakeway Street, which includes Fred Meyer and Whole foods among other options.
Houses for all Buyers
Puget has single-family housing as well as apartment complexes. Houses in the area have relatively large lots, so those with a green thumb have some ground to work with. Houses are well maintained, and some even have spectacular views of Bellingham Bay! So whether you're a college student or a family looking for a place to call home, this neighborhood has what you need.
Puget: The Athlete's Paradise
If you're looking for fun activities in the Puget neighborhood, it won't take long. Located right in the center of the neighborhood is the Civic Athletic Complex, Bellingham's most popular and active park. The complex includes the Arne Hanna Aquatic Center, Civic Stadium, Joe Martin baseball field, the Sportsplex, and various trails. For those who love more extreme sports, the complex also includes a skate park and a BMX bike jump park. Just be sure to wear a helmet! Any sports or outdoor enthusiast will be right at home at the Athletic Complex, as there is no shortage of fun activities. You're also less than a mile from the center of downtown Bellingham, so you're not out of luck if you prefer indoor activities.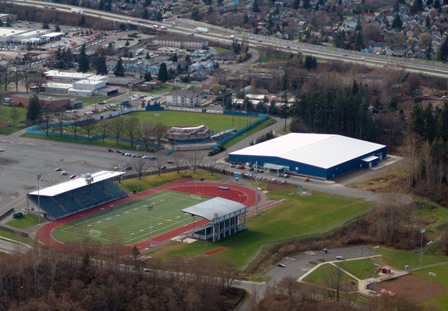 Students in the Puget neighborhood are given a top-notch education. Elementary schoolers attend either Wade King or Carl Cozier Elementary, depending on where they live in the neighborhood. Middle Schoolers all go to one school, Kulshan Middle School. Once reaching high school, all of those students attend Sehome High School.
Interested in living in the Puget neighborhood? Check for local listings at our website here.